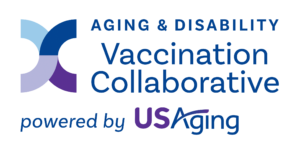 Join us for free vaccine clinics throughout St. Joseph and Elkhart County
Tetanus, Diphtheria, and Pertussis • Pneumococcal 65+ • COVID-19 • FLU available after October 1, 2023.
Free transportation to and from the vaccine clinics is available.
Call 574-334-6143 to register or for transportation needs

This program is supported by the Administration for Community Living (ACL, U.S. Department of Health and Human Services (HHS)) through US Aging as part of a financial assistance award to USAging totaling $74,999,835 with 100 percent funding by ACL/HHS. The contents are those of the author(s) and do not necessarily represent the official view of, nor an endorsement, by USAging, ACL/HHS, or the U.S. Government.
October 2023
3 - Food Bank of Northern Indiana
Chapin St. | South Bend | 9a-11a
9 - REAL Services
1151 S. Michigan St. | South Bend | 10a-2p
11 - Food Bank of Northern Indiana
Chapin St. | South Bend | 8:30a-12p
12 - LaPorte Co. | TBD
18 - Broadway Church | South Bend | 8a
19 - Marshall Co. Senior Expo
Plymouth High School | 8a-3p
20 - LaPorte Co. | TBD
21 - LaPorte Co. | TBD